LOCAL DIVING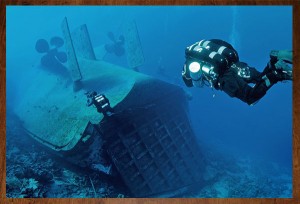 Local Diving – Virginia Beach and General AreaBay Area.
Local Quarries:
Fantasy Lake, Wake Forest, NC. (90 ffw)
Fantasy Lake is a 52 acre quarry that over time has been converted into a unique scuba diving recreational park. The deepest point is 90 ffw with other areas average 30 to 40 ffw. There are five underwater dive platforms. This is for divers only. Air and diving accessories such as straps, glow sticks, weights, log books, etc. are available at the Lake's shop. For more information call (919) 556-1803.
Lake Phoenix, Rawlings, VA. (63 ffw)
Lake Phoenix (formerly Lake Rawlings) is a 20 acre quarry mined for granite rock used in the construction of the Chesapeake Bay Bridge Tunnel, I-85, and others. The lake water is very clear, great for recreational scuba diving, swimming, and kayaking. There are several underwater training platforms and many interesting ruins, sunken boats, bus, and cars. Visibility ranges from 30 to 50 feet. Support includes air fills, camping, rentals, lessons, and more. Located 2 1/2 miles from Exit 39 on I-85. For more information call (804) 716-2199 or go to http://www.lake-phoenix.com/.
Local Diving – Chesapeake Bay:
Chesapeake Bay Bridge Tunnel Islands (32 fsw)
Also known locally as CBBT, it sits within the view of the Atlantic from the Chesapeake Bay. The series of four islands supports the bridges and tunnels for the CBBT to the Eastern Shore of Virginia from Hampton Roads. It provides an interesting diving experience with the great variety of marine life. There are always mussels, oysters,, and clams on the bottom or around the islands.
Chesapeake Light Tower (42 fsw)
Also known locally as "The Tower", it is located approximately 12 miles east of Rudee Inlet (Virginia Beach) and north west of the Virginia's artificial reef. The structure consists of four huge legs extending into the bottom. The legs and cross members are teeming with various types of marine life including muscles, soft corals, octopi, tropical fish (summer),, and many others. Many varieties of fish are found around the tower, especially schools of spade fish.
Virginia Wrecks:
The following is a list of some of the Virginia Beach area wrecks. It is by no means a definitive list. If you wish to share and are familiar with these or other wrecks in this area, please send information, diagrams, or photographs. We will make the information available via the web for everyone to appreciate and enjoy.
Anglo African (25 fsw)
A 4,186 ton freighter sunk after being stranded on Cape Charles on January 5, 1909. Although seldom dived because of the usually less than favorable conditions near the Cape, this can be a very interesting wreck.
Brass Spike (85 fsw)
A wooden hulled steam assisted sailing vessel that we discovered in 1994. A Brass sexton was found laying in the sand. This vessel has brass spikes (thus the name) in the hull and contains some of the biggest tautog you will ever see. The treasure of this wreck is waiting to be discovered.
Cuyahoga (120 fsw)
A 320 ton USCG Cutter that sank after colliding with the 12,762 ton MV Santa Cruz II near Smith Point, Va. on October 20, 1978. Eleven men lost their lives in the collision. The Cuyahoga was raised and later sunk as an artificial reef. The wreck is upright, intact and interesting to explore.
Eureka (115 fsw)
A 3,531 ton four masted steam schooner sunk after colliding with the British steamer Benison on May 6, 1888. The Eureka was en route from New York to New Orleans with a cargo of general merchandise. Some of the artifacts recovered include porcelain dolls, miniature sets of china, numerous types of bottles, steam gauges, deadeyes, portholes, a small bell, a silver lantern, a gold pocket watch, and an ornate capstan cover. This is a fascinating wreck.
Gulf Hustler (75 fsw)
A fishing trawler that sank during high seas in 1974. The wheel house is open, fun to explore, and great for u/w photography. The upper portion of the wreck is coated with mussels and a number of large Atlantic green eels live in the engine room.
Kurn (85 fsw)
A US Navy ocean-going tug, the Kurn was sunk by the Navy as an artificial reef.
Lillian Luckenbach (105 fsw)
A 6,369 ton freighter sunk on March 27, 1943 after colliding with SS Cape Henlopen. The wreck lies on it's port side. The bow and stern are recognizably intact, the amidships section is more broken down. The superstructure is scattered in the sand. This a very interesting wreck but often overlooked in favor of the nearby John Morgan.
John Morgan (110 fsw)
A 7,176 ton Liberty ship sunk on it's maiden voyage on June 1, 1943 after colliding with the SS Montana. The John Morgan was loaded with lend-lease cargo which included trucks, motorcycles, P-39 airplanes, 10 Valentine tanks and tons of assorted weapons. This is one of the most interesting wrecks off of the Virginia coast to explore.
Francis E. Powell (90 fsw)
A 7,140 ton tanker torpedoed by the U-130 on January 27, 1942. The wreck is broken into at least two sections. The stern section is off of Parramore Island in 90 fsw. The section frequently dived off of Virginia Beach is almost unrecognizable as either the bow or amidships section. If, in fact, the wreck is in more than two sections, one section remains to be found.
Santore (60 fsw)
A 7,117 ton bulk cargo carrier sunk after striking a mine laid by the U-701 on June 17, 1942. The starboard gunwale was awash after sinking and subsequently the wreck was reduced to an enormous pile of debris. Although there is little resemblance to a ship, the Santore is frequently dived. Interestingly, the helm was recovered only a couple of years ago by Mike Boyle and Lynn Castaganola.
Tiger (60 fsw)
A 5,992 ton tanker sunk after being torpedoed by the U-754 on April 1, 1942. Except for the point of the bow, there is very little that remains recognizable as a ship. However, the Tiger typically has good conditions and is a popular inshore site, particularly for new divers and students.