OUR DIVE BOAT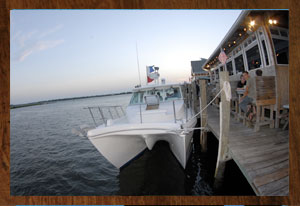 The vessel is a 34 foot Baja Catamaran, outfitted for the discriminating diver; it will accommodate up to six divers. The boat is stable, comfortable and handles Atlantic Ocean sea conditions well. The "Miss Mackenzie" has state of the art electronics and safety equipment that exceed the USCG standards for the vessel. The Captain, Dive Masters and Deck Hands are certified in CPR, First Aid and DAN O2 management; they are knowledgeable, avid divers and dive professionals that are happy to share information with you.
Diving on the "Miss Mackenzie" is best described as an "intimate" diving experience.
What you'll love:
the boat will have you at most inshore destinations in an hour
easy entries and exits
lines rigged so that you "don't miss the wreck"
personable, attentive crew
shaded dive deck
bottled water is provided
Dive Masters for hire for private guided dives (must pre book)
"Miss Mackenzie" departs from Long Bay Pointe Marina, located at 2109 West Great Neck Road in Virginia Beach. The marina has clean restrooms; they offer an assortment of sandwiches, snacks and drinks for sale. The marina is handicap accessible, open from 6:00 AM to 8:00 PM daily, they accept cash and most major credit cards. If you plan to spear fish, a fishing license is required (more information at www.takemefishing.org).
Boat Diving 101:
What to do before your boat dive
Check and make sure you are prepared to dive. Check equipment to assure that it is in working order the night before the dive, and that you have everything.
What is everything?

Mask, snorkel, fins, booties, weights and weight belt
Wet suit – at least a 5mm or a combination of layers equivalent to and appropriate for water temperature 60-70 degrees
We recommend a hooded vest or hood and gloves for all dives
2 full tanks
Buoyancy Compensator
All divers must have an alternate air source (octopus, air II, air source etc.) regulator, depth & pressure gauge, a timing device (watch) or computer
ALL rental equipment must be picked up and returned to the dive shop. Gear rental is 24 hours only – pick up your gear the night before and drop it off after you return from your boat dives
Motion Sickness medication, an ounce of prevention prior to your trip can save the day and the dive, (Triptone, Dramamine, Bomine, Ginger tablets, Sea Bands), there are no refunds due to sea sickness.
What to bring with you
Boat ticket, you must present your ticket at time of boarding
Liability waiver & release, original must be signed at the shop; copy to accompany boat ticket
ALL BOAT TICKETS MUST BE PRE-PAID AT LYNNHAVEN DIVE CENTER. IF YOU ARRIVE AT THE BOAT WITHOUT A TICKET AND WAIVER, YOU WILL BE DENIED BOARDING. PLEASE PLAN TO PICK UP YOUR DOCUMENTS AND RENTAL GEAR THE EVENING/DAY BEFORE THE DIVE.
Diver's Log Book and certification card. Dive insurance card: DAN, Dive Assure, or TriCare
Lunch, snacks, the greatest way to meet new buddies is to tempt them with food & drink, a cooler for drinks is on board the "Miss Mackenzie," bring your own lunch
Mesh gear bags only – no hard luggage or plastic boxes
Dry bag, great place to keep anything that you want to keep from getting splashed or soaked, for example a towel or dry clothes
Sunscreen
Tip for the mates – generally 15-20 % of the price of the trip, based on service, cash only (there is no ATM at Long Bay Pointe).
Boat etiquette
LISTEN to the deck and dive briefings, they contain important information about the boat, your safety and the dives that will help make your dive day pleasant, safe and most of all FUN
The crew will put lines down to assist you in moving easily and safely to the anchor line do not try to make a free descent or ascent, keep your regulator in your mouth at all times and the mask on your face until you reach dive ladder. If you don't know, ASK the crew on the boat to help make your dive as comfortable and safe as possible. If you notice a problem, TELL a crew member
While on the boat, keep your dive gear secured and out of other diver's way to avoid damage, loss of equipment and injury. The dive deck should be clear at all times.
Should you feel seasick, DO NOT GO INTO THE CABIN OR HEAD, go to the leeward side of the boat
Please help us keep the ocean and seashore clean of litter. Deposit all trash in the trash receptacle on the "Miss Mackenzie". Remember, many marine animals are killed by eating plastics that accidentally go overboard.
We are not responsible for items left on board the boat. Please check the boat post dive to make sure that you have all of your possessions.
Boat tickets are non-transferable/non-refundable. There is a strict 48 hour cancellation policy to reschedule your trip. Tickets cancelled within 48 hours will be forfeited without refund.