RENTAL / TANK FILLS
Lynnhaven Dive Center has a supreme full rental SCUBA gear center and Air Fill
Center!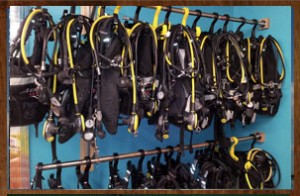 RENTAL
Buoyancy Compensator with Air 2 – $15.00
Full Wetsuit – $18.00
Regulator with analog air and depth gauge- $15.00
Tank Al 80 – $15.00
Tank Steel 95 – $20.00
AL 80 Nitrox 32% – $20.00
Steel Tank Nitrox 32%- $25.00
*Daily Rate
*Rates based on a 24 hour daily period, any delay in returning of gear will be subject to
an additional day charge.
All rental gear requires proof of open water certification at time of pick-up.
AIR FILLS
Lynnhaven Dive Center is equipped to provide air fills as well as custom Nitrox mixes.
You must provide proof of Nitrox certification in order to receive a Nitrox fill. Customers
must analyze their own O2 before accepting the tank.
All of our fills are personally filled per your request, so we may require advanced
notice for special requests.