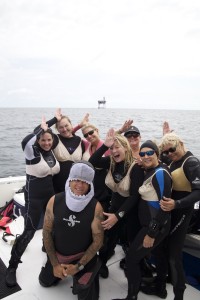 Armed with Scubapro Ladyhawks, MK 25's & Seawing Novas, this group of ladies went diving off of VA Beach. The "Tatas" collectively have over 100 years of diving experience and several thousand dives under their bras. All of these ladies were 80/80 divers.they have never been offshore in VB.
Lindsey & I took the girls out on the Miss Mackenzie and introduced them to local Atlantic Ocean diving. Needless to say far outside their comfort zone!
Well, they are now officially hooked. Viz was about 50′ water temp 67 degrees. Smiles all around. confidence in their Scubapro equipment helped make the difference along with the enthusiastic crew of the Miss Mackenzie. A great day!
Kathy