SCUBA for Kids
SNORKEL CAMP – SCUBA RANGERS – SCUBA CAMP/JR OPEN WATER DIVER 
Give your child an experience they will never forget! Memories that last a
lifetime! LDC has been teaching kids to love the water above and below the
surface since 1979.
We have 3 main programs for children–
Snorkeling for ages 5 and up,
SCUBA Rangers, a pool only SCUBA class, for ages 8 to 11,
and a JR Open Water Certification for children age 12+.
For schedules and pricing, please click here.
SNORKEL CAMP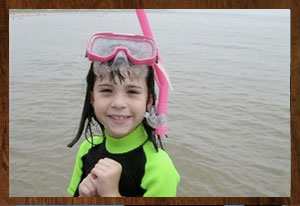 Ages 5 and up
Class option: private, family, and group classes offered.
We also offer seasonal camps for kids only.
Snorkeling is an exciting activity that anyone, young or old, can enjoy with a minimum of equipment and little training. Snorkeling is a great year-round activity, no matter where you live. From exploring the beautiful ocean reefs to discovering your local lake or river, there is a snorkeling experience near you.
TO GET THE MOST OUT OF YOUR SNORKELING EXPERIENCE YOU NEED TO
LEARN THE RIGHT SKILLS IN QUALITY SNORKELING EQUIPMENT THROUGH AN ACCREDITED SSI SNORKELING PROGRAM.
SCUBA RANGERS
Ages 8-11
Pool only (no open water dive component)
Learning to scuba dive is not just for the young at heart. Kids ages 8-11 can learn too!
Join Lynnhaven Dive Centers' Scuba Ranger program and dive in our indoor heated pool. Rangers use all the same gear as their parents – just scaled to size and Rangers learn the same scuba skills, but learn them through fun, interactive games. Working their way through five Ranger levels, your kids earn a pool-only certification card with rewards for each Ranger level achieved along the way.
Initial SCUBA RANGERS training is offered through five or six separate
classroom and pool sessions of about three hours each. During the school
year, classes are every Thursday or Friday afternoon for six or seven weeks.
Seasonally and during the summer, Lynnhaven Dive Center hosts camps of
about three hours over five afternoons. Minimum of 4 children for a class
The sixteen hours of instruction is $275 and includes all gear, snacks, Scuba
Ranger card, and a party! Scuba Rangers also must buy their student kit
including a text book and homework, a Ranger Log, and DVD for $60.
Class 1 – Red Rangers review swimming skills and learn how to snorkel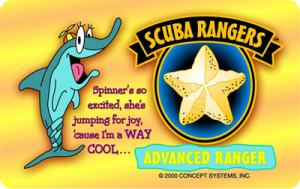 with a mask, a snorkel and fins. Red Rangers learn surface rescue skills like fin push and use of a safety ring and rescue hook. Red Rangers also learn to free dive from the surface.
Class 2 – White Rangers learn the reasons for each piece of dive equipment
and begin equipment assembly. White Rangers use BCDs, regulators, fins,
masks, and wetsuits all sized accurately to their smaller frames – a critical
step toward comfortable diving. During the White Rangers class, Rangers
wear their equipment on the ledge, learning how to breathe underwater.
Class 3 – Blue Rangers learn specific open water skills like regulator
retrieval skills, mask-clearing, air-sharing, and taking off and putting on their
BCDs underwater. Blue Rangers are expected to demonstrate neutral
buoyancy through fin pivot, "budha position," and threading the obstacle
course.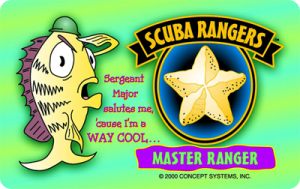 Class 5 – Silver Rangers learn about marine life and ocean activities in the classroom. In the pool, Silver Rangers practice their skills to demonstrate to instructors, family members and friends.
Class 5 – DEMO Rangers show off their skills to parents, other family
members, and friends who can watch underwater on scuba or snorkeling gear.
In the pool, your child will show you what he or she has
learned. DEMO Rangers even graduate underwater!
Make sure you stay for the party.  This is a very fun graduation!
SCUBA CAMP/JUNIOR OPEN WATER DIVER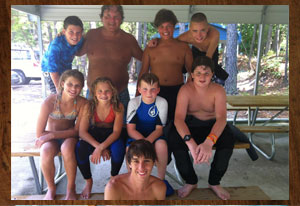 Ages 12+
All sessions are open to both open water classes and advanced open water classes
Upon completing the class, students receive a Junior Open Water Diver Certification Card
Ages 12-14 can dive to depths up to 60 feet with any adult certified diver
For more information on our summer camps and our schedule, please click this link.