SWIM SCHOOL
SWIM REGISTRATION HERE 
JACKRABBIT LOGIN HERE
Lynnhaven Dive Center offers small and personalized swimming lessons for all ages from infant through adults.
Learning to swim is essential for everyone… Swimming is an extremely valuable skill at all ages, and could very well save your life one day!
Our philosophy is that swimming is best learned in small groups, with constant practice over time. This provides for proper attention, instruction, and RESULTS.
With our certified instructors, students learn the importance of physical activity, exercise and conditioning in daily life. Because of this approach, they have more confidence and independence in the water, making them superior swimmers.
At Lynnhaven Dive Center, swim lessons are offered year-round in our heated indoor pool. We are #1 in safety and FUN!
SMALL CLASSES 4:1 Ratio*
PRIVATE LESSONS AVAILABLE
PERSONALIZED SWIM INSTRUCTION
INDOOR HEATED POOL
6 MONTHS TO ADULT
YEAR ROUND
*Parent & Child has a 6:1 Ratio
Sandi Womack and Nate Jones are two of our many qualified swim instructors.  Click on here to go to our About Us page and view their biographies.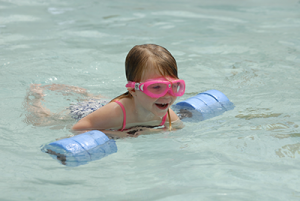 Important Class Information
Class Sizes

Lynnhaven Dive Center limits the size of swim classes to four children per class.
This 4-to-1 ratio assures that children receive maximum personalized attention.
Parent & Child class can accommodate up to 6 children with parents.
Child and Adult Private classes also available

Class Times

All classes are 30 minutes (weekly) in duration.
The majority of our classes are offered Monday through Friday 3-7pm and Saturdays 9am-1pm

Payments

$69 per month for group classes, $110 private per month (2 month minimum).
Payments and Registrations will go through JackRabbit (our online swim software)

Enrollment

You may register mid-month at any time and fee's will be prorated
30 day written notice of cancellation (email to swim@ldcscuba.com)
Swim Registration
Camps & Events
Camps/ Events and Loggerheads Swim Team.
Parent & Child: 6 months – 2 years
Water familiarization, blowing bubbles, and water play in preparation for level 1. 6:1 Ratio.
Level 1 Beginner: 2 – 4 years
Familiarization with the water, blowing bubbles, kicking on their front and back with the assistance of the instructor.
Level 2 Basic: 3 – 5 years
Work on building their front and back strokes and kick with a little help from the instructor. Also, adding some more strokes and sit down dives.
Level 2 1/2 Intermeditate: 5 – 10 years
Work on building their front and back strokes and kick without a flotation device. Also, add more strokes, start treading water, learn standing dives and more.
Level 3 Experienced: 6 – 12 years
Starting to understand their strokes, practice treading water, learn standing dives and more.
Full payment for classes is required at time of booking.
Please call LDC at (757) 481-7949 for any questions or prices.
Call Sandi to schedule your private lesson at 757-236-3680.
*Should you have specific questions about your childs swimming ability or class placement, please contact Sandi at (757)236-3680 or send her an email at swim@ldcscuba.com. She will make sure that your child is in an appropriate class*
Make-up classes will be arranged ONLY if the class is cancelled by the instructor, or if inclement weather causes the pool to be closed